Invest in Best Infrastructure Funds Online
Infrastructure funds have made a strong comeback this year. Unlike diversified equity funds infrastructure funds are exposed to both systematic (i.e. market) and unsystematic (i.e. sector) risks. As such, only informed investors should invest in sector funds. It is important to get the timing of your entry and exit in such funds correct. Over 2 years or more, infrastructure funds had been lagging behind diversified equity funds for reasons that are well known. The rally in equity market leading up to the Lok Sabha election held in April – May, was riding on the expectation of a reversal of the policy paralysis situation that characterized the previous government. Stocks in the infrastructure sector have been among the biggest beneficiaries of the pre-election rally. The election results did not disappoint the market, with NDA and BJP getting absolute majority in the Parliament. Post elections, the structure of the new NDA government has been viewed by the market as one that will enable faster decision making and will kick start the stalled infrastructure projects. Consequently, post elections infrastructure funds have continued to perform well. Infrastructure funds category has given average return of over 58% in the last 6 months. For our selection of buzzing infrastructure funds, we have selected top 5 funds, based on the criteria discussed above. The buzzing funds in this category have given returns of over 60% in just the last six months. The table below shows the buzzing infrastructure funds (growth option).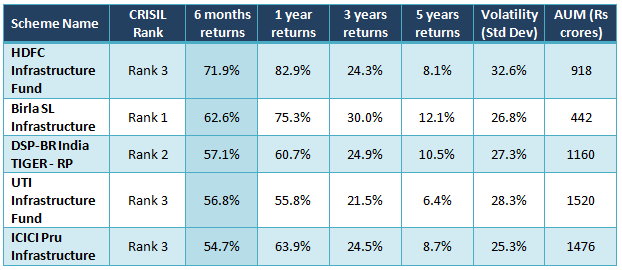 Conclusion
As discussed earlier, investors should not rely purely on short term return as a performance measure, when selecting mutual funds for investment. Investors can add these buzzing funds to their investment watch-list. If these funds are able to sustain the strong performance they have shown this year to date in the future, investors should discuss with their financial Prajna Capital, if they are suitable investment options.